PGA Tour
Fantasy Forecast: Winners and losers from Puerto Rico Open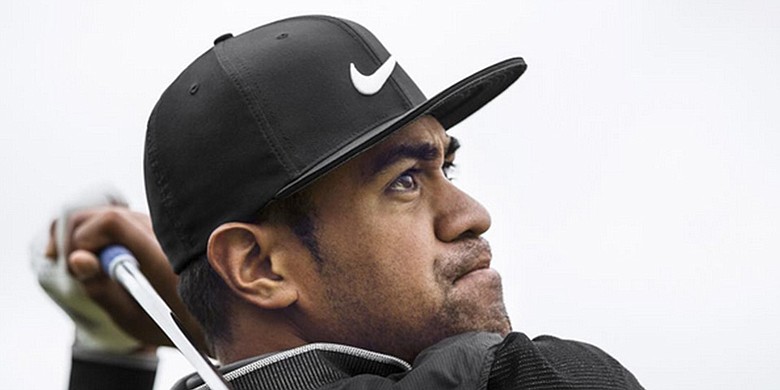 Monday, March 28, 2016
Big hitter Tony Finau won for the first time on Tour as he defeated veteran Steve Marino in a three-hole playoff to win the Puerto Rico Open at Coco Beach Golf & Country Club in Rio Grande, Puerto Rico. Ian Poulter, the 54-hole leader and Rodolfo Cazaubon missed out on the playoff by one shot as they could not catch 12-under-par 276.
Key Sunday moments:
Closing the deal for the first time is never easy but Finau made it look so as he was four-under par on his first 10 holes Sunday. He had a two shot lead with eight holes to go but bogeys on Nos. 11 and 15 saw that lead evaporate. He parred the final hole, a par five, to head to the playoff.
The playoff went right back to the 18th tee box and the duo would play it three more times before Finau finally outlasted Marino. Finau birdied No. 18 all three times in the playoff after just one birdie on the par five during the week.
Key moments of the week:
Finau showed signs of life last week as he made the cut for the first time in five events and that included a 67 to close on Sunday. Making the cut in consecutive weeks for the first time in 2016 seemed to fire him up as he rang up another 67 on Saturday. That low one moved him to just one shot behind Ian Poulter to begin Sunday. Chasing Poulter, who hasn't won on Tour in the US since 2010, probably didn't hurt either. This was not the Ryder Cup or match play.
Scorecard:
Only made 15 birdies.
Only made three bogeys including one in the first 3 rounds.
Didn't make an eagle or an "other".
T-13 GIR.
T-14 fairways.
37th putts per GIR.
Saved four of five tries from bunkers.
Fourth in driving distance.
Moving forward:
Whew.
That's not the wind blowing but rather Finau's owners in season-long games that were wondering when exactly he was going to return to the top 10, let alone win. A new calendar year saw him join the Nike stable of Tour pros and to say the new clubs didn't take right away would be a gross understatement. This victory will completely vindicate the idea behind the switch in equipment and should give him a big, deep breath for the rest of the season. Finau didn't switch equipment because he was banging out top fives last season so this can be spun in a hugely positive way. Confidence is a very dangerous animal.
After making just over $2 million last year, he's almost halfway to that total after 12 events this year. It took the 26-year old 46 events to win for the first time but he turned pro at 17 in 2007. This is just his seventh top 10 but there is plenty of talent to keep an eye on.
With this win:
Collects $534,000
Earns 30 FedEx Cup points
Entered into Dean and DeLuca Invitational, the Memorial, PGA Championship and obviously the 2017 Tournament of Champions
Hindsight:
Trends and stats
Becomes the fourth winner in the under-30 category this calendar year as he joins Jordan Spieth (HTOC), Hideki Matsuyama (WMPO) and Jason Day (API/WGC-Dell Match Play).
Becomes the eighth American winner in nine events. Only Alex Cejka, last year's winner, is not Stars and Stripes.
Only the third playoff in nine events but the second year in a row.
There's never been a player defend his title here. Cejka gave it a run with T-11.
Of the nine winners, seven have been first-time winners on Tour.
Finau joins Bradley (2009) and Hadley (2014) as first-timers in the event to win.
Hadley's tournament record of 21-under was very safe this week.
Scott Brown, the last player to set the course record, 63, still holds it after this week. Rafael Campos gave it a scare with 64 on Thursday.
There were 10 bogey-free rounds on the week and Finau had 20% of them.
Course played 71.76 for the week as breezes and gusts always play a part but it wasn't nearly as tough as 2015.
Top 10 Finishers
and what we learned from them this week
Steve Marino (2nd): Best finish since 2011 API; huge talent that has battled injuries over the last five years; this finish will help improve his position in the reshuffle and inflate his DFS value, sadly.
Rodolfo Cazaubon (T-3): Only made one bogey in his last 47 holes for his best finish on Tour; won three times on the PGA Latinomerica Tour last season which gave him Web.com status for this year; third start on Tour and first time at Puerto Rico.
Ian Poulter (T-3): The 54-hole leader couldn't close the deal against a pair of guys who haven't won before. Gamers will remind me that the only major he's currently invited to in 2016 is the Masters. After back-to-back rounds in the 60s Friday and Saturday, Poulter made one birdie, one bogey and 16 pars to miss the playoff by a shot. First time at Puerto Rico might explain 35th in putts per GIR.
Andres Romero (T-5): Closed 68-67 to hit the top 10 for the first time since back-to-back efforts last July at Greenbrier and Barbasol. Just his second start of 2016 as he finished No. 161 last season. He's a former champ at the Zurich Classic in New Orleans. Second to last in putting this week and hit the top five.
Nick Taylor (T-5): Second in putts per GIR shows there's putts to be made and greens to be read at Coco Beach. Nice run of form recently with T-30, T-26, MC and T-5 this week so be aware at SHO this week. Best finish since he won at Sanderson Farms in the fall of 2014.
Scott Brown (T-5): Hot golf continues with his third top 10 in four weeks. Wanna guess which week he was my OAD? Go ahead. His fifth time here and third T-5 or better. AUTOMATIC.
Will MacKenzie (T-8): Backed his T-6 from last year with T-8 this year so he digs it. Super ball-striking week with both fairways and greens in the top 10. Make it four events in a row playing the weekend and each week has been an improvement. Interesting.
Rafael Campos (T-8): Puerto Rican native has never played in another Tour event. Led after 18 and 36 holes as his 64 on Thursday was the low round of the week. Great story but from a gaming standpoint, he's a non-story as he's never seen another Tour track. Write him down for this event next year to gain a leg up.
Aaron Baddeley (T-8): Co-led the field in birdies with 20 in his first attempt at Coco Beach. He led the field in putts per GIR, the only putting metric kept this week. More proof that prior rounds on this track is completely unnecessary.
Rear-view mirror
how my pre-tournament favorites performed this week
Scott Brown: T-5, see above.
Graham DeLaet (T-11): Never finished outside T-24 in four tries but didn't make enough putts to contend. Safety first pick did its job but plenty believed he would be the first timer who won this week.
William McGirt (MC): Woof. Never got it started and went home early. Tough for Yahoo! and AVIS gamers but thankfully those are games where you can make substitutions.
Patrick Rodgers (T-21): Got it to nine under after going out in 32 but 39 coming in sunk his chances of a big finish. Had an "opposite" week where he couldn't hit GIR but made putts. I'm calmly waiting as he's just going to get better and smarter.
Alex Cejka (T-11): Hurt his hand early in the week so it was "beware the injured golfer" was in full effect. Only made one bogey in the first two rounds and gave a noble defense.
Freddie Jacobson (T-15): Another seaside course, another T-17 or better for the Swede this season. Sadly he was the only player in the top 15 to have an over-par round on Sunday prevent a big finish. Solid season marches on.
Chesson Hadley (MC): Not much form since the 2015-16 season started last fall and couldn't catch on a course where he won for the first time in 2014. One top 25 in 11 events now this season.
Sung Kang (DNS): Did not sure.
George McNeill (DQ): Finished round three with a non-conforming club in his bag. That's frowned upon yet no specific details. That stings for a defending champ.
Sam Saunders (T-39): Couldn't rekindle the magic from last year as he lost in a playoff. He's still played the weekend in three of his last four with his only MC at Bay Hill.
Boo Weekley (T-35): Made cut is better than MC, which he did in the three events leading up to PRO. Not sure the beard-button down short sleeve shirt combo is inspiring.
Luke Donald (T-26): Groundhog Day. Another decent finish, no more, no less.
Dean Burmester (T-39): One poor scoring round, 75 on Thursday, shouldn't overshadow three rounds under par in his first Tour event.
Stay Tuned:
Tomorrow I'll have my preview for the Shell Houston Open on newsstands around mid-afternoon on the East Coast.
Wednesday I'll have all my picks for specific fantasy formats and the results of last week's selections.
Check @MikeGlasscott, @GolfweekMag or @GolfweekFantasy for more details.
Golfweek.com readers: We value your input and welcome your comments, but please be respectful in this forum.
---
---
---
---
---
---
---
---
---
---
---
---
---
---
---
---
---
---
---
---
---
---
---
---
---
---