PGA Tour
Inspired by Golfweek cover, man makes Lego replica of Masters leaderboard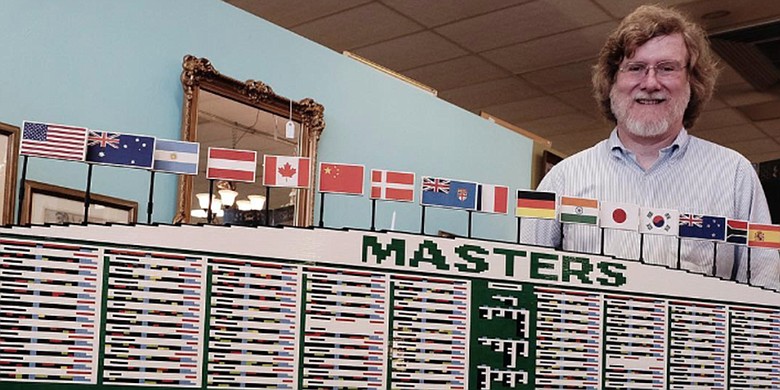 Monday, March 28, 2016
It's pretty incredible what Andy Duckett can do with a bunch of Lego blocks. And Golfweek is partially responsible for his latest creation!
Two years ago, the Georgia native made a Lego replica of Augusta National's clubhouse. This time: a 40-pound model of the official Masters leaderboard.
Duckett, an architect, began his ambitious leaderboard project last year, not knowing the scope of his design going in. He certainly didn't expect it to be 40 pounds, nor the dimensions it came out in the end (65 inches long, 16 inches high, 5 inches deep). Here is a look at the Lego replica:
His finished masterpiece arrived at Augusta in March. The Lego leaderboard is currently on display at Trends & Traditions Antique Mall on Washington Road. Duckett detailed his thought process behind his latest Lego venture.
"I'm constantly looking for something extra to spice up my golf display, and this idea sort of came to me," Duckett told The Augusta Chronicle. "As an architect, I've always been interested in Lego bricks, and the availability of pieces in Atlanta is unbelievable. My scoreboard has more than 5,000 pieces."
But everybody needs a source of inspiration. What was Duckett's, you ask? As it turns out, Golfweek!
"Late last summer, I started thinking about doing a model of the St. Andrews clubhouse, but then I saw a Golfweek magazine cover with a beautiful photograph of the Masters scoreboard," Duckett said. "It was such a striking photo that I decided to build the scoreboard because it's not a complicated shape."
That's right, it was, we believe, the cover photo from our Masters preview issue last year that got Duckett's juices flowing.
Here's that 2015 issue photograph (shot by Getty Images' Ross Kinnaird):
Glad we and (Kinnaird) could help. Duckett sold his clubhouse replica for $1,700 and says he'll try to sell the Lego leaderboard as well.
Duckett also indicated that he's not done with Masters Lego creations, telling the Augusta Chronicle that he's looking to make a replica of a hole at Augusta National in the future.
He hasn't indicated what his source of inspiration could be there. But whether or not it involves Golfweek, based on Duckett's past work, we're sure it will be splendid.
Golfweek.com readers: We value your input and welcome your comments, but please be respectful in this forum.
---
---
---
---
---
---
---
---
---
---
---
---
---
---
---
---
---
---
---
---
---
---
---
---
---
---
---
---